The implementation of a spend management vision – a dedicated function within an organization is very common in most large organizations. The management of direct and indirect expense are considered an important and strategic role that has a material impact on profitability performance, and efficiency. Organizations with a defined and well-managed spend management or purchasing function are typically centralized and provide several measurable benefits to their organizations including:
Measurable cost reductions
Sustainable contribution to profitability
Optimized supplier bases
Predictable supplier performance and quality levels
Minimal inventory levels
Efficient back-office operations
While most organizations that have a spend management vision and department certainly realize the benefits and efficiencies. Organizations that do not have those functions resident in their companies probably do not realize the costs of being highly decentralized. (See Chart 1 & 2)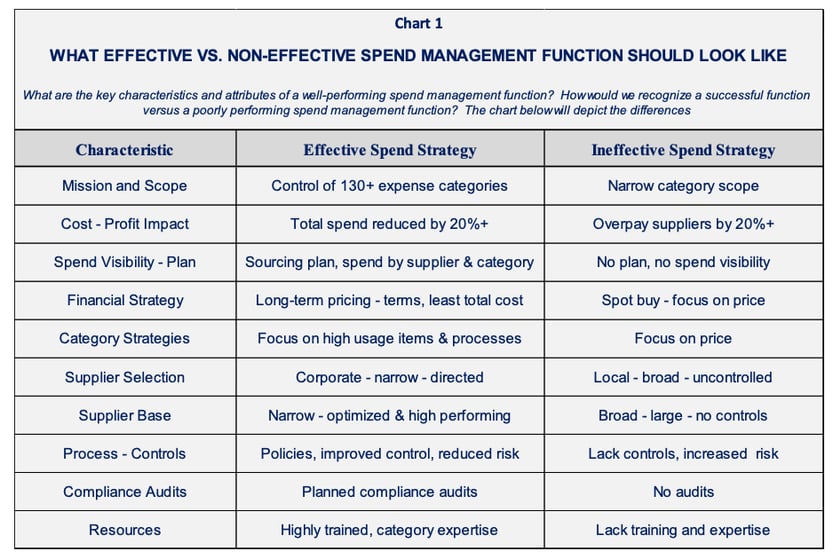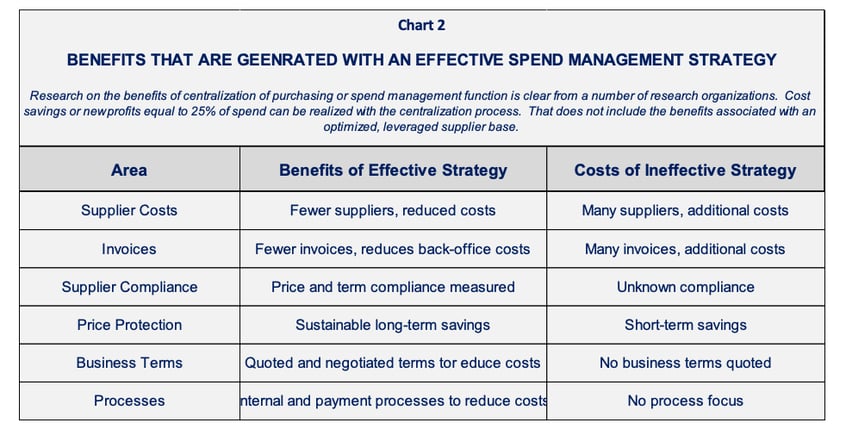 SPEND MANAGEMENT VISION
If you think ahead and envision the spend management function as if can, as it should look for your organization, a draft spend management vision is outlined below that is certainly achievable in most if not all organizations.
Cost Savings – New Profitability
Significant cost savings and internal efficiencies generated annually adding to enhanced bottom-line profitability.
Planned Sourcing Strategy
Over 130 expense categories are planned, sourced, quoted and negotiated based on a methodical prioritized plan.
Sourcing Approach
Suppliers are quoted based on pricing, terms, service levels, quality, reputation, and client relationships where applicable.
Financial Strategy
Pricing, terms, quality and service level or a least total costs strategy with terms locked for 12, 24, or 36-month terms across all categories will be achieved routinely.
Supplier Selection – Preferred Suppliers
Preferred Suppliers will be selected, communicated, and utilized at the category level to leverage spend, improve supplier performance, and create internal efficiencies.
Solutions, implementation, and Training
Management will seek input from category experts and influencers for each category source and quote the category according to those requirements. They then will make informed decisions about supplier selections, implementation, and training as required.
Compliance
Compliance audits will be completed in each high value category to measure supplier price compliance. Preferred Suppler compliance and use of correct items or services by internal employee team.
Spend Management Web Portal
Sourcing plans, supplier pricing audits, spend management preferred supplier list, and contract tracker will all be available on a web portal and accessible 24/7 to employees in all locations to improve communications and compliance.
Research New Concepts, Ideas, and best Practices
New categories ideas, research, best practice, and process improvement ideas will be made available to the team via newsletters, webinars, supplier demos, and meetings to drive new savings-profits and new efficiencies.
Management Dashboard
Key spend data, plans, solutions, results, audits, and performance metrics will be available on a spend dashboard through the spend portal.
ANTICIPATE MANAGEMENT CHALLENGES
Change is difficult for some folks. When you attempt to centralize functions and, in the process, take authority away from staff that "enjoys" that authority, the change can be difficult. There will be challenges to this process. I guaranteed it. The only question is how long does it take for those challenges to occur and where does it come from? Be prepared for these objections, listen, and adjust as necessary, but move fully toward implementing your vision.
Leadership and Alignment
CEOs that begin this process, and then promptly delegate the implementation of the spend management function to an executive who isn't a "believe" or doesn't share the same vision will be extremely frustrated with the result. A strong leader that is aligned completely with the vision must be charged with leading this effort and utilize change management techniques to develop buy-in to a changing process.
Timely Decisions
Leaders and category owners must be willing to make decisions on a timely basis with the best information rather than for "perfect" information which will never be available.
Prepare for Internal Pushback
Change can be difficult for some. Employees will try to "outshop" category owners for better prices on selected items and services in order to re-introduce old suppliers. One can never guarantee the cheapest price on over 10,000 items, but when these issues occur (and they will), work with the "preferred supplier" to reduce the price as mush as possible. This strategy will prevent the growth of the supplier base and prevent new inefficiencies from occurring from the addition of new suppliers.
Navigation of Supplier Changes
Suppliers build relationship with your employees, sometimes appropriate and sometimes not. When management makes a supplier decision, discussions will come up asking for exceptions in order to utilize "old" suppliers—base on price, service, quality, and/or relationships. Management should be prepared for this because if too many exceptions are allowed to occur, supplier optimization and leverage will never occur. Management must be willing to enforce the preferred supplier strategy to realize the spend management vision.
Resolving Supplier Issues
Supplier issues will occur with service, quality problems, incorrect pricing. When those issues occur, it is best to allow the supplier to resolve those issues with an expectation that the issues will be resolved quickly and permanently. Employees unwilling to make changes will look for opportunities for suppliers to fail. When suppliers drop the ball, it is fair to give them an opportunity to resolve the issue to your satisfaction.
Expert Negotiators vs. Spend Management Strategy
There are some who believe their "expert negotiating skill" or their "grinder" skill are all that is needed to drive costs down across an organization. While a grinder may develop better pricing than you have today, the pricing way skill be much higher that market because the negotiator lacks benchmarks that come from quoting. There is no substitute for spend planning, sourcing routinely, quoting, negotiating, and supplier audits which will drive down costs on a sustainable basis.
IN SUMMARY
The implementation of a spend management strategy and vision can have a significant impact on an organization's expense structure, profitability, and internal efficiencies as evidenced by the many businesses that have that function in place today. Savings or new profits up to 25% to total spend is possible.
Spend Management functions should start with a clear vision of how the organization will perform in terms of scope, process, methods, and expected benefits to the organization. The implementation of the spend management function is an exercise in change management for those groups that do not have that function today. A sequential set of process sets should be followed to enlist the support of as many management personnel and influencers as possible during this endeavor.
While this implementation is a sound strategic move that will drive new profits and efficiencies, realize there will be pushback from those uncomfortable with change. The question is this…Will your organization allow the pushback to derail positive and necessary change for your organization? Strong management teams will not allow that to happen.